There occurs many times that we forget our password.It can recover lost Web/FTP/Email passwords.When ever we connect to any site which require authentication than when we login, our password is send through network adapter card like ethernet card etc....It can capture the passwords for these Protocols POP3, IMAP4, SMTP, FTP, and HTTP (basic authentication passwords).U might be thinking that how big it is and what is the price?Its a small tool & that too free.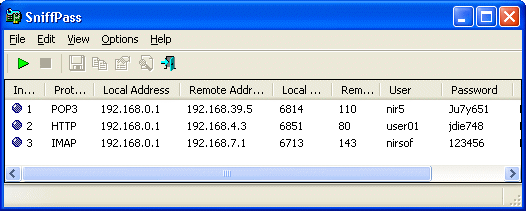 It works on Windows 98/ME/NT/2000/XP/2003/Vista with WinPcap capture driver installed.
How to use Sniffpass
If you have Windows 9x, Windows NT, or Windows XP with SP1, you must download and install the WinPcap capture driver in order to use SniffPass.
In all other versions of Windows (including Windows XP with SP2), installing this capture driver is optional. If you don't install this driver, you can still use the raw sockets method for capturing the passwords.
Run the executable file of SniffPass (SniffPass.exe).
From the File menu, select "Start Capture", or simply click the green play button in the toolbar. If it's the first time that you use SniffPass, you'll be asked to select the capture method and the network adapter that you want to use.
After you select the desired capture options, SniffPass listen to your network adapter, and display instantly any password that it find.